Football RV Parking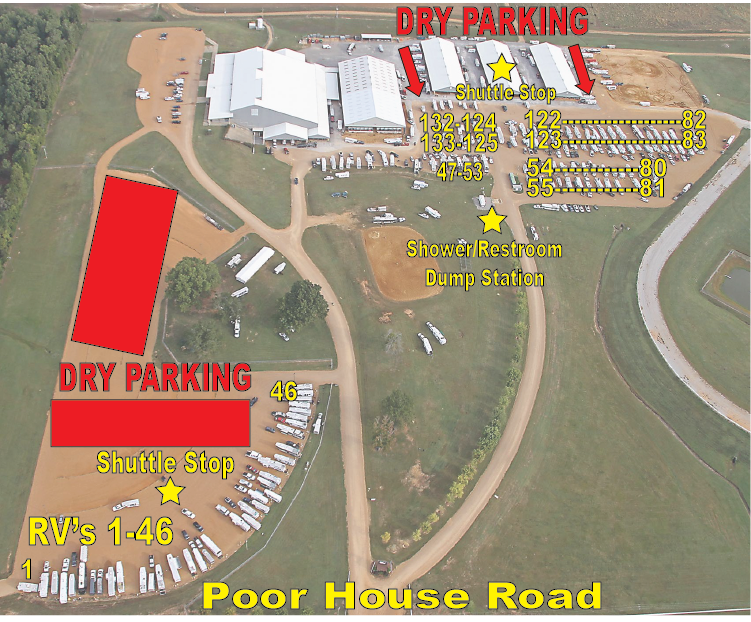 Tailgate at the MS Horse Park!
*Info Below is Subject to Change each year.
Golf Cart Policy on Campus
Click HERE to review MSU's policy for golf carts on campus.
If you would be like to be added to our e-mail mailing list, please e-mail d.traywick@msstate.edu.
Information for the 2018 Football Season
We will NOT be parking RV's at the MS Horse Park during the Louisiana Tech (Homecoming) game on November 3 due to an event. Please make other arrangements for that game.
Fees
PLUG IN FEE: The plug in fee is a flat $150 fee for the weekend (Thursday-Sunday). This includes water, electricity, dump station, Wi-Fi, shower/restroom facility and 4 armbands for shuttle service to and from the game.
DRY PARKING FEE: The dry parking fee is a flat $80 fee for the weekend (Thursday-Sunday). This includes dump station, Wi-Fi, shower/restroom facility and 4 armbands for shuttle service to and from the game.
Reservations/Cancellations
All reservations must be made online in advance with a credit card at www.mshorsepark.com.
No reservations or cancellations will be taken over the phone or on Facebook.
You will select your RV site online and be able to reserve for multiple games
RV sites CANNOT be changed after payment has been made.
Cancellations MUST be made by noon on Tuesday prior to the game to receive a full refund. Please e-mail d.traywick@msstate.edu to cancel. We do not accept cancellations over the phone.
Cancellations are submitted as soon as they are received. However, depending on your bank, it could take up to three weeks to reflect on your statement.
Arrive/Depart
You may arrive beginning on Thursday at 8 am prior to the game and must depart by 2 pm on Sunday.
You CANNOT leave your RV on grounds in between games.
The RV box will be unlocked with your name on it upon arrival.
Shuttles *New this Year
The shuttles are only for RV guests staying on grounds.
The shuttles will start running 4 hours before the game and run for 2 hours after the game. They will run during the game but will take a short break in the second quarter.
Each RV will receive 4 armbands per reservation. Everyone riding the shuttle must have an armband unless children are under 2 years old.
MS Horse Park staff will provide armbands upon arrival or they may be picked up at the shuttle stop if you arrive after Horse Park staff has left.
Additional armbands may be purchased for $5 per band at the shuttle stop beginning 3 hours before the game.
Amenities
Each site has power and water hook-ups. We do have a dump station on grounds if needed next to the RV office.
There is a bathhouse in the center aisle of Barn 3 and we also have 6 restrooms/showers in the white facility next to the RV office.
Free Wi-Fi is available.
Pets are allowed as long as they are kept on a leash and are cleaned up after.
Dry Parking
Dry parking means you will not have plug ins but you can run your generator.
If you are dry parking, you need to park in the top lot closest to the road with plug in spots 1-45, to the left of Barn 1 or to the right of Barn 3 as seen in diagram above.
Dry parking spots will not be assigned and will be on a first come, first serve basis. This means you can park anywhere you want in the designated areas but you will not be assigned an actual spot.
Rules and Regulations
In the past, we experienced some vandalism and mischievous behavior during football season and our surveillance cameras showed that it was from youth staying on grounds.
Equipment and all three barns are off limits except for the restrooms in Barn 3. They are secured to ensure safety of all guests.
We encourage parents to bring outdoor activities for children to play in grassy areas, but please do not let them in the barns.
Pets are welcome but please keep them on a leash. Children play in all of the grassy areas so please clean up after them.
The Mississippi Horse Park nor MSU is not responsible for any damaged, tampered, or stolen items or any other violation that may occur while staying on the grounds.
If you have any questions, you may reach Dana Traywick in the MS Horse Park office at 662-325-9350 or e-mail d.traywick@msstate.edu.